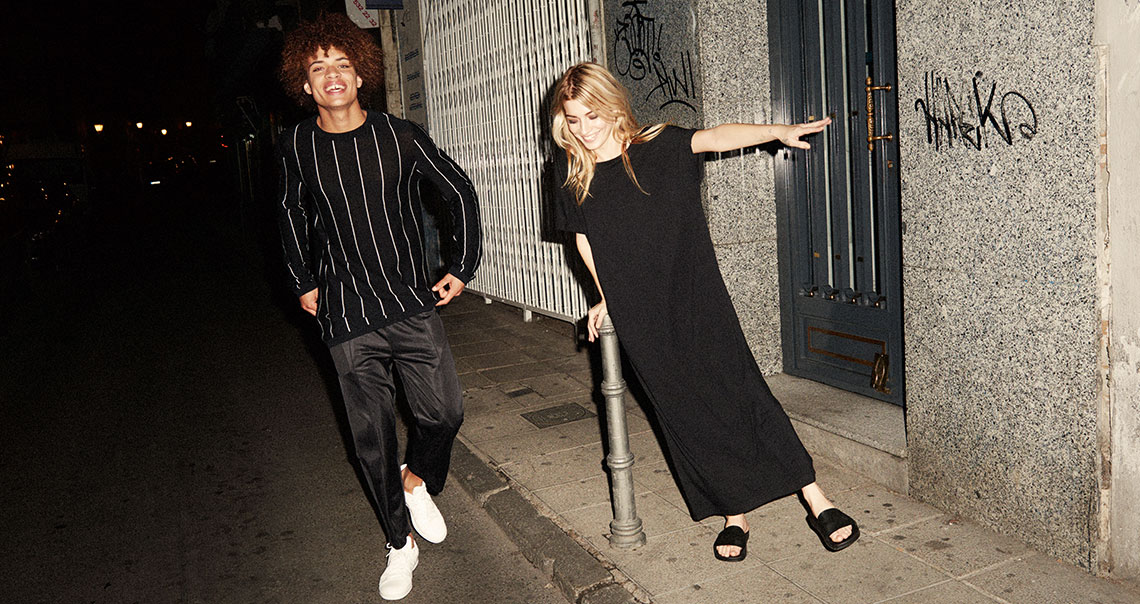 Dr. Denim is your family. Your friend. Your every day companion. Someone you can turn to in every situation. Just like a perfect pair of jeans. Dr. Denim creates affordable staples to live your lifein, whether heading for a casual lunch, a wedding, the meeting or even to bed. Denim is always there with you. Extend yourself with a fashionably functional wardrobe that never lets you down, that breaks borders and makes room for life. Every day is a denim day.
This written statement is a promise about innovation, knowledge and valuable quality. It's a promise about the future and all those who share it with Dr. Denim. This framework states the parameters which ensure that Dr. Denim delivers on this promise and creates denim for every day - pieces to live your life in. Street-smart product development and perfectly fitted jeans is the way forward. Every day is a denim day. This is where our heart is, this is our belief and this is Dr. Denim.

WE VALUE SUSTAINABILITY
At Dr. Denim, we highly cherish our moral values towards promoting and maintaining sustainability standards – Not only through direct environmental concern but through the fact that we want Dr. Denim products to embody the vision that denim and fashion can be strong, guiding forces within the surrounding world of sustainability. With our outright mission to be using primarily sustainable fibers by 2020 in our collection, we also want you, our customers to feel confident in helping us guide you to find your eternal style and encourage the world with us that it should mean long life over fast consumption. We invite you to take a second thought to help us reach these goals faster and purchase items tagged with an Organic Cotton, Sustainable Fibres or Recycled Fibres label.
WORKING CONDITIONS IN MANUFACTURING
We are participants in the BSCI - Business Social Compliance Initiative - alongside many well-known companies in our industry.
The BSCI is a process/system to work towards and monitor compliance with the BSCI code of conduct. The BSCI code of conduct contains principles in the following areas:
The rights of freedom of association and collective bargaining
No discrimination
Fair remuneration
Decent working hours
Occupational health and safety
No child labour
Special protection for young workers
No precarious employment
No bonded labour
Protection of the environment
Ethical business behavior
External links
BSCI frequently asked questions
BSCI code of conduct

FABRICS & FIBRES
We are increasing the percentage use of sustainable materials in our collection over time. By sustainable we mean fibres such as organic cotton, dead stock materials and non-cotton fibres made from plant fibres (e.g. hemp, cellulose-based fibres, etc.). Our goal is to use 95% sustainable contents by 2020 while maintaining our established price levels. Right now, part of our collection, but not all, features sustainable materials.
Leather or not
We use very little leather. Our policy is to only use leather which is left over from the food sector and not to use any leather from animals raised solely for the making of clothing.
All of our jeans are vegan and do not feature any leather labels (except for our vintage line, Old Jam, which does feature leather waistband labels). By the same token, we do not make down feather jackets or use angora fur in any of our garments.
CHEMICALS
Another important area is chemicals, or preferably the lack thereof. We have a strict chemicals policy based on the Swedish Chemicals Group's guide lines, which applies to all of our production.
The Swedish Chemicals Group has 80 members in clothing and electronics, and helps members stay on top of regulations and recommendations. The policy takes REACH regulations into account but also covers chemicals which the Stwedish Chemicals Group believes are important but which have not yet been covered by legislation.
We regularly perform laboratory testing on randomly selected items to check that our policy is being followed. We perform extensive tests across all product groups and suppliers.

TRANSPORTATION
Our production takes place across the world (you will find country of origin on all garments). We ship virtually all of our imports by sea to keep emissions as low as possible.
Our calculations show that sea freight is actually a very efficient means of transportation - to such an extent that long distance sea freight pollutes less than shorter distance road transport. To put this into perspective, if we look at global energy use across different means of transportation, sea freight accounts for only 9.5% of the total (source: WBSCD 2004 via IPCC 2007). The rest is road, air and rail.